"In the first chapter of the Gospel of Luke, the angel Gabriel appears to a young girl named Mary, who lives in the small, backwater town of Nazareth. The angel announces the birth of a son, to be named Jesus.
Not surprisingly, Mary is at first fearful and then doubtful. "How can this be," she says, "since I am a virgin?" In response, the angel offers an obscure answer. "The power of the Most High will overshadow you." Then, as if to remind Mary of God's power, he says, in effect, look at what God has already done. Her cousin, Elizabeth, is already pregnant, says the angel, even though the elderly woman was thought to have been unable to conceive. "For nothing will be impossible with God," says Gabriel.
Seemingly satisfied with this answer, and overcoming her initial fear and doubt, the young woman assents. "Let it be with me according to your word," Mary says."
The rest of this article entitled "Great Expectations: Joy and the Visitation" by James Martin, S.J. and originally published on November 26, 2012 can be found at this link.  It is well worth the read.
        May 31, 2018
++++++++++++++++++++++++++++++++
May 28, 2018 On this Memorial Day, we pray for the brave men and women who served our country and are no longer with us. 
God of power and mercy, you destroy war and put down earthly pride.
Banish violence from our midst and wipe away our tears,                                                      that we may all deserve to be called your sons and daughters.
Keep in your mercy those men and women                                                                                    who have died in the cause of freedom
and bring them safely into your kingdom of justice and peace.
++++++++++++++++++++++++++++++++++++
The Most Holy Trinity   May 27, 2018
On this Solemnity of the Most Holy Trinity, we reflect on these words from Pope Francis about the trinity, the "divine family" of God, the Son, and the Holy Spirit.
"This 'divine family' is not closed in on itself, but is open. It communicates itself in creation and in history and has entered into the world of men to call everyone to form part of it. The trinitarian horizon of communion surrounds all of us and stimulates us to live in love and fraternal sharing, certain that where there is love, there is God." (Pope Francis, May 2016)

"It has been called the central doctrine of Christianity, yet if you asked most Christians to explain the Trinity, most would respond with vague metaphors, or would stumble over incomplete doctrinal statements. Some of my colleagues rolled their eyes at the suggestion that I would try to define the Trinity in two minutes. But here it goes. Fr. Larry rice explains…Trinity-Fact-of-Faith"
USCCB Secretariat of Pro-Life Activities   2017-2018 Respect Life Reflection
"Reflecting on the healed wounds of the Risen Christ, we see that even our most difficult trials can be the place where God manifests his victory. He makes all things beautiful. He makes all things new."                 www.usccb.org/be-not-afraid
++++++++++++++++++++++++++++++++++
A little info on the Easter Season and Pentecost
The octave of Easter comprises the eight days which stretch from the first to the second Sunday. It is a way of prolonging the joy of the initial day.In a sense, every day of the Octave is like a little Sunday.
The word "Easter" comes from Old English, meaning simply the "East." The sun which rises in the East, bringing light, warmth and hope, is a symbol for the Christian of the rising Christ, who is the true Light of the world. The Paschal Candle is a central symbol of this divine light, which is Christ.It is kept near the ambo throughout Easter Time, and lit for all liturgical celebrations.
Liturgical Notes for Easter From Universal Norms on the Liturgical Year and the Calendar:
22. The fifty days from the Sunday of the Resurrection to Pentecost Sunday are celebrated in joy and exultation as one feast day, indeed as one "great Sunday." These are the days above all others in which the Alleluia is sung.
23. The Sundays of this time of year are considered to be Sundays of Easter and are called, after Easter Sunday itself, the Second, Third, Fourth, Fifth, Sixth, and Seventh Sundays of Easter. This sacred period of fifty days concludes with Pentecost Sunday.
24. The first eight days of Easter Time constitute the Octave of Easter and are celebrated as Solemnities of the Lord.
25. On the fortieth day after Easter the Ascension of the Lord is celebrated, except where, not being observed as a Holyday of Obligation, it has been assigned to the Seventh Sunday of Easter (cf. no. 7).
26. The weekdays from the Ascension up to and including the Saturday before Pentecost prepare for the coming of the Holy Spirit, the Paraclete.                                                www.usccb.org
+++++++++++++++++++++++++++++++++
May – the month of Mary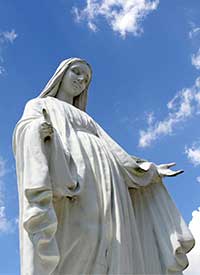 As the Mother of God, the Virgin Mary has a unique position among the saints, indeed, among all creatures. She is exalted, yet still one of us.
Redeemed by reason of the merits of her Son and united to Him by a close and indissoluble tie, she is endowed with the high office and dignity of being the Mother of the Son of God, by which account she is also the beloved daughter of the Father and the temple of the Holy Spirit. Because of this gift of sublime grace she far surpasses all creatures, both in heaven and on earth. At the same time, however, because she belongs to the offspring of Adam she is one with all those who are to be saved.  (Lumen Gentium, no. 53)
Mary embraces God's will and freely chooses to cooperate with God's grace, thereby fulfilling a crucial role in God's plan of salvation. Throughout the centuries, the Church has turned to the Blessed Virgin in order to come closer to Christ. Many forms of piety toward the Mother of God developed that help bring us closer to her Son. In these devotions to Mary, "while the Mother is honored, the Son, through whom all things have their being and in whom it has pleased the Father that all fullness should dwell, is rightly known, loved and glorified and . . . all His commands are observed." The Church honors her as the Mother of God, looks to her as a model of perfect discipleship, and asks for her prayers to God on our behalf.                            www.usccb.org
Frequently Asked Questions about Mary
+++++++++++++++++++++++++++++++++++
 I thought I would share a few different prayers of Thanksgiving.
A Prayer for a Thankful Heart
"Lord, teach me to offer you a heart of thanksgiving and praise in all my daily experiences of life. Teach me to be joyful always, to pray continually and to give thanks in all my circumstances. I accept them as Your will for my life (1 Thessalonians 5:16-18). I long to bring pleasure to Your heart daily. Break the power of the enemy in my life. Defeat Him through my sacrifice of praise. Change my outlook and attitude into one of joyful contentment with my present circumstances. I thank You for all that I have and all that I am and all that I am to come.                                                                         – Debbie Przybylski, Intercessors Arise International (adapted)
   A Short Prayer of Thanks 
"God, sometimes life gets me down and I find it hard to see things to be thankful for. Open my eyes to see the gifts you've given me in my life. I'm going to start by thanking you for loving me enough to come to earth and die so we can live together forever. Amen."                                                  – Wendy van Eyck, Contributor, Crosswalk.com
A Prayer to Teach Kids Thankfulness
"Lord, I pray that the message of Christ and his sacrifice is the root of gratitude in my heart. That His gracious gift leads me to thankful living, setting an example for my children. That they will have their own relationship with Jesus one day, and that You would grow gratitude in their hearts out of the acceptance of Jesus as their Savior. Lead us to do everything in the name of Jesus and give thanks to You through Him."                                  – Marie Osborne, Contributor
OCTOBER IS RESPECT LIFE MONTH 
10/25/17    Be Not Afraid  for reflection 
Secretariat of Pro-Life Activities
"Be Not Afraid"
Respect Life Month, October 2017
My dear friends in Christ:
Once again, we mark the month of October as Respect Life Month. Looking back over the last year, there's been a lot of uncertainty, suffering, and heartache. Between tragedies that occur in the public eye and trials that take place in our personal lives, there's no shortage of reasons we cry out to God.
At such times, we may feel alone and unequipped to handle the circumstances. But we have an anchor of hope to cling to. With words that echo through thousands of years into the corners of our hearts, God says to us, "Do not fear: I am with you" (Isaiah 41:10).
The 2017-2018 Respect Life theme, "Be Not Afraid," reminds us of this promise.
God isn't a detached, distant observer to our pain; the Eternal Son became man and Himself experienced immense suffering—for you and for me. His wounds indicate the very essence of our identity and worth: we are loved by God.
There are times we may doubt the value of our own lives or falter at the thought of welcoming and embracing the life of another. But reflecting on the healed wounds of the Risen Christ, we can see that even our most difficult trials can be the place where God manifests his victory. He makes all things beautiful. He makes all things new. He is the God of redemption.
That's powerful. That's something to hold onto.
And, He is always with us. Jesus promised this when he gave the disciples the same mission he gives to each of us: Go.
As followers of Jesus Christ, we know that our identity and our mission are two sides of the same coin; like the apostles, we are called to be missionary disciples. We are not only invited to follow and take refuge in God, our stronghold, but we are also commissioned to reach out to one another, especially to the weak and vulnerable.
Building a culture of life isn't something we just do one month of the year, or with one event or initiative—it's essential to who we are. It happens through our daily actions, how we treat one another, and how we live our lives.
How do we respond when our aging parents are in failing health? Do they know how much we love them and cherish each day given? Do we ensure they know they are never a burden to us? In our own challenging times, do we ask for support? When others offer a helping hand, do we receive it? When our friend becomes pregnant in difficult circumstances, do we show compassion that tangibly supports her and helps her welcome the life of her new little one?
Sometimes, we may not be sure exactly what to do, but let's not allow the fear of doing the wrong thing or saying the wrong thing keep us from living out our missionary call. We don't need to have everything figured out all at once. Let's remember the guidance of Our Blessed Mother, the first disciple: "Do whatever he tells you" (John 2:5).
Also, I encourage you to visit www.usccb.org/respectlife to see the U.S. bishops' new Respect Life materials centered on the theme "Be Not Afraid." There are articles, bulletin inserts, prayers, action ideas, and more!
This Respect Life Month and always, let's walk with each other; let's help each other embrace God's gift of human life. Whatever storms or trials we face, we are not alone. He is with us: "Behold, I am with you always, until the end of the age" (Matthew 28:20).
Sincerely yours in Christ,
Timothy Cardinal Dolan
Chairman
USCCB Committee on Pro-Life Activities
October 2017
The following links are to articles published by the United States Council of Catholic Bishops on the website www.usccb.org.
Call the National Domestic Violence Hotline: 800-799-SAFE (7233) – 24 hours, toll free  or visit  the National Domestic Violence Hotline for more information.  Please check out the Catholic Families for Peace website for more information.
If you or someone you know is suffering after abortion, confidential non-judgmental help is available.   Call Project Rachel's national toll-free number: 888-456-HOPE(-4673) or visit HopeAfterAbortion.org.  Or  visit  www.buffalodiocese.org/pro-life  or call Project Rachel's Buffalo office at (716) 847-2211.
+++++++++++++++++++++++++++++++++++++++++
10/7/2017:   This weekend please take a few moments in prayer and reflect upon your week and try and pinpoint a few moments that may have been stressful, difficult, maybe even mundane or boring, and looking back on those moments,consider how they may have been blessings or may have bore fruit had we approached them differently.
Starting this Saturday, in response to Pope Francis' call to care for the Refugee, the USCCB, CRS and Catholic Charities U.S.A have initiated a week of prayer and action to "Love Your Neighbor" especially the many refugees in our world.
This initiative is called Share the Journey, under the hashtag #Sharejourney.
Here is the link to the webpage with practical suggestions and prayers for the week, showing ways that we can help refugees and those displaced in our country and world: https://www.sharejourney.org Please take a look at this website and especially pray this week for those suffering from the injustices of our world.
I am drawn to think about the Holy Family and how they themselves were refugees. How the angel came to Joseph in a dream and called him to take his family to Egypt to avoid the scourge of infants under King Herod.  Can you imagine Joseph, bringing with him the two most Holy and influential people that have ever walked the Earth and fleeing to an unknown land?  What an example to us about obedience and trust in the Father's will! We know very little of that time in the life of the Holy Family, but how crucial to the salvation of the world that they would experience a flight into safety.
May we be a people whose prayer affects the way we live our lives. May we strive to love our neighbor as Christ loves us and we love ourselves.
Have a fun, safe weekend! I look forward to seeing you all next week!
Go bills